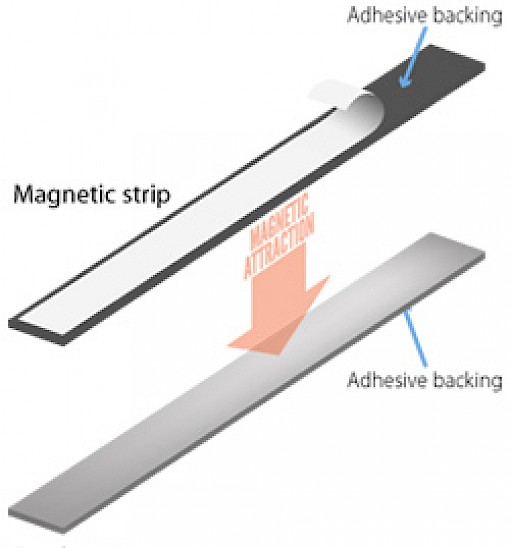 Adhesive Backed Steel Tape
Ideal for use with matching magnetic tape
Used with magnetic tape provides a temporary or semi-permanent fixing
Ideal for holding banners or temporary glazing
Roll length 30m, 13mm to 25mm widths available
产品概览 - Adhesive Backed Steel Tape
For temporary or semi-permanent fixings
Adhesive-backed steel tape can be used with the matching width adhesive-backed magnetic tape to provide temporary and semi-permanent fixings. The magnetic steel tape is supplied with standard acrylic adhesive.
The steel tape is a white coated mild steel that is magnetically receptive (permanent magnets will magnetically attract and magnetically clamp onto it). It is used to convert any surface into a magnetically receptive surface. The steel tape is supplied in reels and can be cut easily with normal scissors or tin snips. It is coated with white plastic on both faces and comes with two choices of adhesive on one side.
Standard Adhesive backed Steel Tape
The standard adhesive is an excellent all-round mounting adhesive allowing application of the steel tape onto surfaces including paper, board, metals, painted surfaces and plastics. The standard adhesive steel tape also has good bond strength with low surface-energy plastics on which most acrylic adhesives cannot adhere well. It is also ultra-violet (UV) and moisture stable.
Foam Backed Steel Tape
The steel tape with a foam adhesive backing is a high strength good all-round mounting adhesive that allows application to most materials and surfaces including smooth or uneven surfaces. The foam adhesive backing allows bonding of the steel tape onto uneven/rough surfaces by being able to bond better to the uneven contours than to the standard adhesive versions. It is ultra-violet (UV) and moisture stable.
How to Use Steel Tape
As a general rule, when bonding to plastic surfaces, if the plastic feels "oily" (slippery to the feel) then any adhesive may struggle to bond well to it – roughening up the surface to increase the bonding surface area and hence improve the ability for an adhesive to bind may assist (plastics can sometime wick adhesive away limiting the effectiveness of any adhesive).
The steel tape is perfect for use with flexible magnetic tape but can also be used with other permanent magnets such as ferrite magnets, NdFeB (neodymium iron boron) magnets. It has a wide range of uses but is mostly used in magnetic secondary glazing applications, magnetic flyscreens, and also in magnetic signage applications (visual communication systems, advertising, etc)
The steel tape is supplied as 30 metre (just over 98 ft) long rolls in three widths – 13mm, 20mm and 25mm. The widths directly complement our range of flexible magnetic tapes. We can also supply, upon request, the steel tape in 35mm and 50mm widths but there can be a 10-12 week lead time in order to produce and supply these larger widths – please contact us for a price and lead time if you require 35mm or 50mm wide steel tapes. One popular application for steel tape is for use with magnetic secondary glazing. The steel tape is put onto the window frame (so its white coating closely matches the white paintwork of the window frame) and the magnetic tape is on the Perspex sheet to create the secondary glazing.
产品型号
产品型号
Matching magnetic tape
Roll force (m)
Thickness (mm)
Units per pack
Weight (kg)
Width (mm)
Width (in)
Roll length (ft)
Thickness (in)
Weight (lb)
FM667
FM663
30
0.2
1
0.8
13
0.511
98.42
0.008
1.76
FM668
FM664
30
0.2
1
1.2
20
0.787
98.42
0.008
2.64
FM669
FM665
30
0.2
1
1.5
25
0.984
98.42
0.008
3.3
"我们很高兴从一开始就使用了易克磁性技术的产品和服务。"
"我无法告诉你磁性过滤器对我们的帮助有多大!磁性过滤器解决了我们很多的问题,超出了我们的想象,它甚至清除了30年了堵塞污垢!"
"这个产品经济,可靠,高效。我相信未来磁过滤技术必将广泛使用。"
"易克磁性过滤出乎意料地能够清洁我们的液体,并且改善了成品的表面处理质量。它每天能够过滤掉50公斤的金属颗粒."
"我们选择易克磁性技术是因为他们是个值得尊敬和悠久历史的品牌。他们能够提供非常有性价比的价格,服务过程非常好,安装及时,并且非常可靠。"
"我们非常高兴安装了Automag;它解决了我们先前关于停工和维护成本的问题。安装过滤器后,可以使用回收水帮助我们每周节约了£1000!"
"我们公司的宗旨是制造客户容易使用的产品,可靠,经济!易克磁性技术的小磁铁有着最强的磁性性能和最为经济的性价比。"
"易克磁性技术的Ultralift Plus磁性起重器是捡取和运输我们设备中的超声波校准块完美应用。"
"结果是非常美好的,它有效地捕获金属污染物,并且非常容易清洗……"