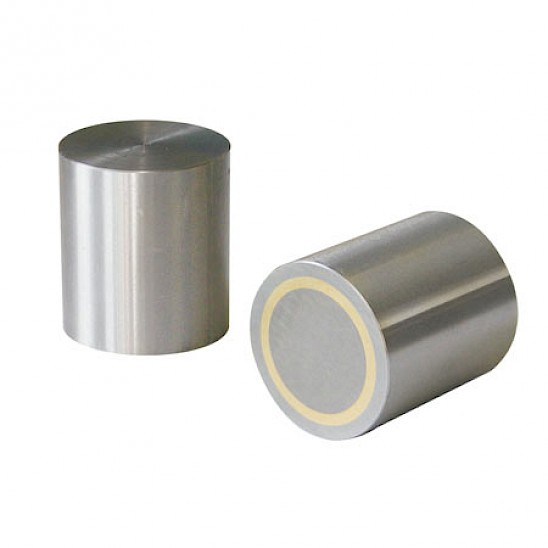 Alnico Deep Pot Magnets (Zinc Plated)
For clamping, holding, fixturing and tooling applications
Ideal for press fit applications
Precision ground outer diameter
产品概览 - Alnico Deep Pot Magnets (Zinc Plated)
Alnico deep pot magnets (zinc plated) – Precision Outer Diameter Versions
These Alnico deep pot magnets have a precision ground outer diameter for press fitting into precision milled holes. Like the standard alnico deep pot magnets, they are blind ended deep pot magnets. The precision ground alnico deep pot magnet comprises an Alnico 5 magnet surrounded by a brass retaining ring spacer which are both inside a zinc plated mild steel body ( "cup") that is blind ended at the rear (no thread or tapped hole at the back). The magnetic pole face is ground to a smooth finish. The outer diameter is ground to a H6 tolerance, making it ideal for press fitting within milled-out holes.
Alnico Magnet with Good Corrosion Resistance
Alnico has naturally good corrosion resistance. This allows the precision ground outer diameter alnico deep pot magnet, with its zinc plated steel body, to have good corrosion resistance and allows excellent performance in many oils. The alnico deep pot magnet with precision ground OD is used at ambient temperatures and are great for high temperature use. They are recommended for use in temperatures up to +220 degrees C (+428 Fahrenheit), and can potentially be used at temperatures up to +400 degrees C (+752 Fahrenheit).
When being operated at temperatures above +200 degrees C, the materials making up the pot magnet may start to become loose due to expansion coefficients of the different materials, so it is only recommended for use with caution above +200 degrees C. Alnico has the best temperature coefficient of magnetic induction for any magnetic material so only reduces its magnetic performance slightly as the magnet heats up. This allows the alnico deep pot magnet with a precision ground outer diameter to keep performing very well as the pot magnet heats up (the Br falls the least with rising temperature when using alnico magnetic material).
Precision Ground Alnico Deep Pot Magnet for Press-Fit Applications
This type of magnet is perfect for press-fit applications, having its H6 toleranced outer diameter. The precision ground alnico deep pot magnet is used in many applications, including clamping, tooling/fixturing and general clamping. The 'deep' pot design of the alnico deep pot magnet provides stability of magnetic performance and excellent thermal capability. It is possible to produce customised versions of this magnet. For example, the mild steel casing can be chrome or nickel plated. Also, the rear of the pot magnet could have a tapped hole or a thread included – please contact us for prices and lead times (minimum order quantities may apply). For a standard range of alnico deep pot magnets (without a precision ground outer diameter), please see our alnico deep pot magnets.
产品型号
产品型号
Diameter (mm)
Height (mm)
Weight (g)
Pull force (kg)
Units per pack
E730
6
10
4
0.2
20
E731
8
12
4
0.3
20
E732
10
16
9
0.5
20
E73
13
18
17
1.0
20
E734
16
20
29
1.5
10
E735
20
25
57
3.5
5
E736
20
25
57
3.5
5
E737
32
35
200
15.0
2
E738
40
45
420
15
2
E739
50
50
720
35.0
1
E790
6
20
4
0.2
20
E791
8
20
7
0.4
20
E792
10
20
11
0.8
20
E793
13
20
19
1.0
20
E794
16
20
29
1.8
10
E795
20
25
57
4.2
5
E796
25
35
140
8
2
"我们很高兴从一开始就使用了易克磁性技术的产品和服务。"
"我无法告诉你磁性过滤器对我们的帮助有多大!磁性过滤器解决了我们很多的问题,超出了我们的想象,它甚至清除了30年了堵塞污垢!"
"这个产品经济,可靠,高效。我相信未来磁过滤技术必将广泛使用。"
"易克磁性过滤出乎意料地能够清洁我们的液体,并且改善了成品的表面处理质量。它每天能够过滤掉50公斤的金属颗粒."
"我们选择易克磁性技术是因为他们是个值得尊敬和悠久历史的品牌。他们能够提供非常有性价比的价格,服务过程非常好,安装及时,并且非常可靠。"
"我们非常高兴安装了Automag;它解决了我们先前关于停工和维护成本的问题。安装过滤器后,可以使用回收水帮助我们每周节约了£1000!"
"我们公司的宗旨是制造客户容易使用的产品,可靠,经济!易克磁性技术的小磁铁有着最强的磁性性能和最为经济的性价比。"
"易克磁性技术的Ultralift Plus磁性起重器是捡取和运输我们设备中的超声波校准块完美应用。"
"结果是非常美好的,它有效地捕获金属污染物,并且非常容易清洗……"