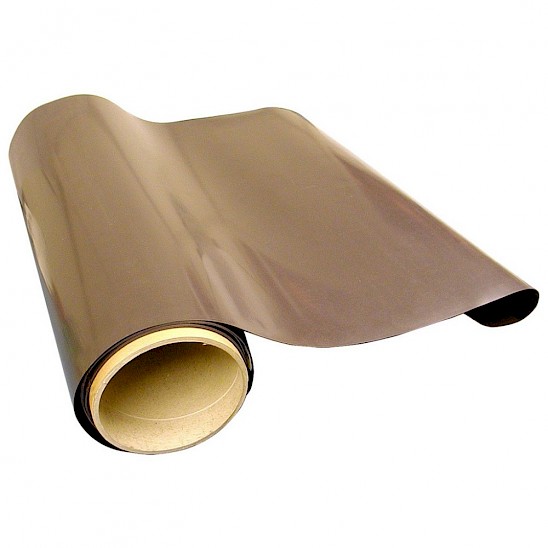 Hover to zoom
Magnetic Sheet
Easy application for signage and display jobs
Strontium ferrite in thermo-plastic binder.
Max. operating temperature 80°C.
UV coating for cleaner handling.
Flexible and impact resilient but can easily be cut using scissors.
Regular shapes can be cut using inexpensive dies.
Available with plain, white gloss or standard acrylic adhesive backing.
Coloured and dry-wipe finishes available
产品概览 - Magnetic Sheet
About Magnetic Sheet
The magnetic sheet is a calendared strontium ferrite magnetic powder within a thermo-plastic binder to create a thin sheet which is then magnetised multiple-pole on one surface. It is a flexible magnetic sheet that will attract and hold onto magnetically receptive surfaces. The magnetic sheet has one magnetic face and can be put against itself to attract magnetically, but it is normally put against a ferromagnetic surface (mild steel sheet, ferrous sheet, etc). The binder is the limiting factor on the maximum operating temperature of the magnetic sheet. Above +80 degrees C the binder starts to soften the magnetic domains to cancel themselves out which results in a demagnetisation. So the maximum operating temperature is +80 degrees C.
The Magnetic Performance of Magnetic Sheet
The magnetic performance varies with the thickness of the material. The thinnest magnetic sheet (0.5mm and 0.6mm thick) has a 22 grams per square centimetre pull force rating. The thickest magnetic sheet materials (0.75mm, 0.80mm and 0.85mm thick) have a 44 grams per square centimetre pull force rating. The flexible magnetic sheet is impact resilient.
The magnetic sheet is supplied in 620mm and 1000mm (0.62m and 1m) widths in 10m, 15m and 30m roll lengths (depending on version). We also offer 0.15m x 0.15m square pieces (in 0.75mm thickness). All the flexible magnetic sheet versions have an ultra-violet (UV) coating – this assists with keeping the sheet clean (no blackening of fingers when you handle it – also assists with converting material with other materials such as vinyl backing, adhesive backing, etc). The magnetic sheet material can be easily cut with scissors, craft knife and dedicated plotter cutter. Regular shapes can be cut using inexpensive dies.
Variations of Magnetic Sheet
The flexible magnetic sheet comes with different finishes. Plain flexible magnetic sheet has no adhesive or vinyl surface – it is generally used by printing companies who wish to add their own adhesive or printed vinyl by conversion to meet their own specifications or requirements. Adhesive backed flexible magnetic sheet has a standard acrylic adhesive backing layer added to the unmagnetised surface. Such adhesive backed flexible magnetic sheet can be adhered to other materials or surfaces as necessary (e.g. making light-weight parts magnetic).
Vinyl backed flexible magnetic sheet has a vinyl layer added to the unmagnetised surface. Such magnetic sheet can then have the vinyl printed onto to create customised signage and advertising. We supply gloss white vinyl magnetic sheet, and can also supply other colours of gloss vinyl sheets if required. We may also be able to supply customised printed magnetic sheet required. We can supply gloss vinyl flexible magnetic sheets with a dry-wipe finish. We can also supply customised variants of the above and even some alternatives (within reason) such as adding a ferrous layer between the magnetic layer and the vinyl. Please contact us with your requirements.
Applications include vehicle signage, Point of Sale (PoS) displays, magnetic advertising, magnetic displays (e.g. maps), magnetic conversions, adverts, banners, etc.
产品型号
产品型号
Finish
Pull force (g/cm2)
Roll length (m)
Thickness (mm)
Units per pack
Weight (kg)
Width (mm)
Width (in)
Roll length (ft)
Thickness (in)
Weight (lb)
060510A2
Plain
28
30
0.5
1
35
620
24.4
98.5
0.02
77
060710A2
Plain
44
30
0.75
1
53
620
24.4
98.5
0.03
116.6
060524A2
Gloss Vinyl White
28
30
0.6
1
43
620
24.4
98.5
0.024
94.6
060724A2
Gloss Vinyl White
44
30
0.85
1
60
620
24.4
98.5
0.033
132
060724D2
Gloss Vinyl White
44
15
0.85
1
30
620
24.4
50
0.033
66
060724X5
Gloss Vinyl White
28
32.5
0.6
1
23
1000
39.4
10
0.024
50.6
060724X4
Gloss Vinyl White
44
10
0.85
1
33
1000
39.4
32.5
0.033
72.6
060711A2
Adhesive Backed
44
30
0.8
1
60
620
24.4
98.5
0.031
132
FM650
Adhesive Backed
44
0.75
5
0.071
150
5.9
0.03
0.16
"我们很高兴从一开始就使用了易克磁性技术的产品和服务。"
"我无法告诉你磁性过滤器对我们的帮助有多大!磁性过滤器解决了我们很多的问题,超出了我们的想象,它甚至清除了30年了堵塞污垢!"
"这个产品经济,可靠,高效。我相信未来磁过滤技术必将广泛使用。"
"易克磁性过滤出乎意料地能够清洁我们的液体,并且改善了成品的表面处理质量。它每天能够过滤掉50公斤的金属颗粒."
"我们选择易克磁性技术是因为他们是个值得尊敬和悠久历史的品牌。他们能够提供非常有性价比的价格,服务过程非常好,安装及时,并且非常可靠。"
"我们非常高兴安装了Automag;它解决了我们先前关于停工和维护成本的问题。安装过滤器后,可以使用回收水帮助我们每周节约了£1000!"
"我们公司的宗旨是制造客户容易使用的产品,可靠,经济!易克磁性技术的小磁铁有着最强的磁性性能和最为经济的性价比。"
"易克磁性技术的Ultralift Plus磁性起重器是捡取和运输我们设备中的超声波校准块完美应用。"
"结果是非常美好的,它有效地捕获金属污染物,并且非常容易清洗……"