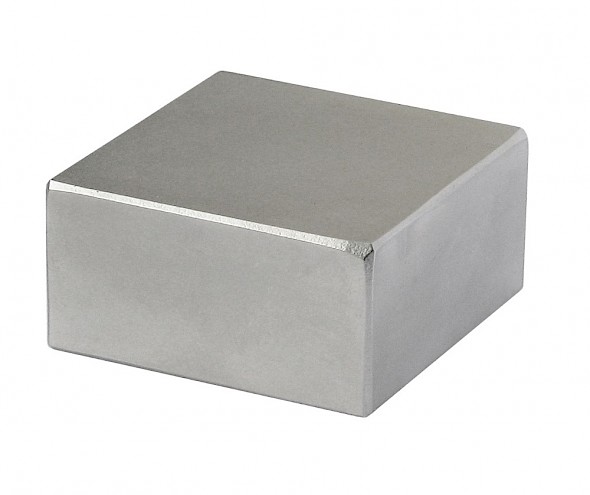 Hover to zoom
Neodymium Block Magnets
Where compact size and high strength are required
Strongest magnetic performance
Nickel plated
N35 grade material
80°C max operating temperature
产品概览 - Neodymium Block Magnets
Neodymium (rare earth) NdFeB block magnets
Neodymium magnets or NdFeB block magnets are usually specified by their three dimensions such that the first two dimensions detail the size of each magnet pole face and the last dimension specifies the distance between the poles (the magnet is magnetised in the same direction as the last dimension). The NdFeB Neodymium block magnets could be NdFeB Neodymium rectangular magnet or NdFeB Neodymium square magnets, NdFeB Neodymium slab magnets or NdFeB Neodymium cube magnets. Any such shapes (rectangle, square, slab or cube) fall under NdFeB Neodymium block magnets.
Magnet Design for Alternative Magnetic Systems
For very tall magnets (where the height is larger than the pole face dimensions, the block magnets are referred to as bar magnets and such magnets have their own online section). The larger the pole face area the better the magnet will be at attracting through larger air gaps (the magnet will project a stronger field at distance).
Magnets can be stacked in multiples of their pole to pole distance (they will attract each other to build height) which will give increases in performance but increasing the magnet height further will eventually start to give less and less increase as the performance starts to plateau off. When this happens and more performance is required then a larger pole face area magnet is needed (magnetic design could be used to give an alternative magnetic system but we would have to discuss your application to assist you). The direction of magnetisation is physically locked into the structure of the magnet - you cannot change it to be in a different axis (you would need to get another magnet produced).
Maximising Magnetic Pull
If you are clamping a magnet between two mild steel (ferromagnetic) plates you have a good magnetic circuit (with some leakage around the sides). But if you were to have two NdFeB Neodymium block magnets side by side in a N-S arrangement (they will attract extremely strongly in this way), you have an even better magnetic circuit with potentially even higher magnetic pull with very little air gap leakage involved and the magnets will be getting close to working at their maximum possible performance (assuming the steel does not magnetically saturate). Take this idea further and consider a checker-board effect (-N-S-N-S- etc) clamping between two mild steel sheets and you have a maximum pull force system limited only by the steel's ability to carry all the magnetic flux.
产品型号
产品型号
Height (mm)
Length (mm)
Pull force (kg)
Units per pack
Weight (g)
Width (mm)
N817
3
25
2.9
10
5.6
10
N818
5
25
4.9
4
9.4
10
N819
5
35
5.8
5
13.1
10
N820
3
50
5.8
1
22.5
20
N821
12.5
50
243.8
10
0.2438
50
"我们很高兴从一开始就使用了易克磁性技术的产品和服务。"
"我无法告诉你磁性过滤器对我们的帮助有多大!磁性过滤器解决了我们很多的问题,超出了我们的想象,它甚至清除了30年了堵塞污垢!"
"这个产品经济,可靠,高效。我相信未来磁过滤技术必将广泛使用。"
"易克磁性过滤出乎意料地能够清洁我们的液体,并且改善了成品的表面处理质量。它每天能够过滤掉50公斤的金属颗粒."
"我们选择易克磁性技术是因为他们是个值得尊敬和悠久历史的品牌。他们能够提供非常有性价比的价格,服务过程非常好,安装及时,并且非常可靠。"
"我们非常高兴安装了Automag;它解决了我们先前关于停工和维护成本的问题。安装过滤器后,可以使用回收水帮助我们每周节约了£1000!"
"我们公司的宗旨是制造客户容易使用的产品,可靠,经济!易克磁性技术的小磁铁有着最强的磁性性能和最为经济的性价比。"
"易克磁性技术的Ultralift Plus磁性起重器是捡取和运输我们设备中的超声波校准块完美应用。"
"结果是非常美好的,它有效地捕获金属污染物,并且非常容易清洗……"